Here's the original location of this Canoe article: http://www.canoe.ca/JamMovies/mar11_scott.html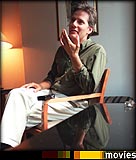 Saturday, March 11, 2000
Forging acting chain
Actor Campbell Scott likes to try new things
By BRUCE KIRKLAND
Toronto Sun
It didn't take long for Campbell Scott to figure out that Winnipegger John Paizs was breathing different air than everyone else on the set of Top Of The Food Chain.
Paizs, best known for the completely wacko feature Crimewave, was directing Scott in his farcical sci-fi horror film on locations in and about Toronto.
Scott, suppressing a giggle, says: "I told him to his face after a couple of weeks: 'John, you're a complete lunatic!' He said, 'No I'm not!' But of course, I was right."
You need to look no further for proof than Top Of The Food Chain, a campy creature feature which opened in Toronto theatres yesterday. Love it or hate it, it's definitely way, way, way out there, Scott says.
Scott is the 40-year-old son of the late Hollywood star George C. Scott and the late Montreal-born Manhattan theatre legend Colleen Dew-hurst.
Paizs cast him as a single-minded scientist investigating the arrival of aliens on Earth.
The aliens, who spew blue guck and feature buzzsaw teeth when they're not disguised as 'Living Dead' humans, are eating people in some small and surreal town, dumping their guts all over the place and generally wreaking havoc.
The movie deliberately goes for the most absurd poses, the most ridiculous lines of dialogue, the cheesiest special effects. It does not want to be taken seriously.
Scott figures that Paizs and the extra-terrestrials have something in common.
"I think that, if he's not an alien himself, he definitely identifies, if you know what I mean. And he's from Winnipeg -- the same city where Guy Maddin (another eccentric Canadian filmmaker) makes his movies. Maybe there's something in the water."
The opportunity to do something as nuts as Top Of The Food Chain appealed to Scott, whose past films range wildly from Longtime Companion to The Sheltering Sky, from David Mamet's fiendishly clever The Spanish Prisoner to the loopy romp The Imposters, directed by Scott's pal Stanley Tucci. The two of them also co-directed the sublime drama Big Night.
In theatre, following in the footsteps of his illustrious parents, Scott has done major plays from Hamlet to Long Day's Journey Into Night.
"Whether you can see it or not," Scott says, "I am making a real attempt to be a little different, especially in acting, especially in movies. I don't really want to be 'the young guy in love' much more. It doesn't interest me. It's boring and it's not what I do. I'm from the theatre.
"So, if you see Big Night, Day Trippers and The Imposters, you can see I'm trying to get to something else in acting, as well as becoming a film director, (which) I'd really like to try to be."
So Top Of The Food Chain perfectly played to his experimental urges. "It's relentless in its absurdity, in its 'try-anything' ridiculousness."
Shooting the movie wasn't easy. Scott, and co-stars such as his off-the-wall romantic interest Fiona Loewi, had trouble keeping straight faces during many takes.
"We lost a lot of takes just in laughing fits. We weren't just cracking up, we were out of control. It was like vaudeville moviemaking."

---
The Following articles are located at
http://www.canoe.ca/JamMoviesArtistsS/scott_campbell.html
Monday, November 29, 1999
Great Scott
Who'd guess a famous actor's son would be just a regular guy?
By RANDALL KING -- Winnipeg Sun
TORONTO -- Winnipeg director John Paizs, a North End kid of Hungarian stock, refers to actor Campbell Scott as a "blueblood."
Forget the yachting cap and ascot image. Paizs refers to Scott's breeding as an actor. Campbell's father was the late George C. Scott (the "C." stood for Campbell). His mother was actress Colleen Dewhurst. It doesn't get more illustrious than that.
Paizs was keenly aware of that when he offered Campbell the lead role of scientist Dr. Karel Lamonte in the sci-fi parody Top Of The Food Chain, which is now playing at Cinematheque. He was set up for even more intimidation when Scott accepted the role.
"Look at the line-up of the directors who have cast him in their films," Paizs says, listing a few: Bernardo Bertolucci (The Sheltering Sky), Alan Rudolph (The Innocent), David Mamet (The Spanish Prisoner).
"It's a pretty intimidating proposition to presume that you can direct this person," Paizs says. "If I hadn't been so busy thinking about everything else that I had to think about, I might have been paralysed."
But as it turned out, Scott apparently wasn't all that imposing.
"Very soon into the shoot, he started calling me by the Hungarian version of my first name, which is Janos," he says. "He kept calling me that, and I can't tell you how much that put me at ease."
It didn't hurt that Scott was adventurous enough for the task of starring in a Paizs film. Many an actor might have been scared off after seeing Paizs's loopy first feature, Crime Wave.
"I kind of had the same reaction to Crime Wave that I had to the script of Food Chain," an animated Scott says, as we sit in a suite at the Park Hyatt Hotel. "I went through the first five minutes of it and thought: 'I'm not looking at this anymore. What is this?'
"But I couldn't ... quite ... tear myself away," he laughs. "And then 90 minutes later, I was like: 'What time is it?' It really was that kind of ... fascinating ... and not in a way that makes me feel kind of greasy or I hate myself. "So that's when I said, 'Let's talk about it.' "
It helped that Campbell, 37, fondly remembered the type of film being parodied in Top Of The Food Chain. Never mind that his father acted in masterpieces such as Dr. Strangelove and Patton, or that his mother was one of the premiere ladies of the stage. Just as Paizs misspent much of his boyhood watching the Saturday night Chiller Thriller on Winnipeg TV, young Campbell did the same thing in his hometown New York City.
"Ours was Creature Features," Scott says, adding that heavy-handed parental supervision was not a problem at his house.
"My mother might have attempted once, but there was not much parental censorship of mostly because they were theatre actors and they were often at the theatre Saturday nights," he says. "We'd be like, 'Hey, Creature Features is on!' It was just a matter of not being present."
It was then Scott got to observe the kind of character he plays in Top Of The Food Chain, the square, confident, all-knowing scientist with an abiding faith in technology and the government.
"There was always this character, the guy who came in, he usually had a pipe, and he was the atomic scientist from some place and he spoke a lot of horseshit no one understood," Scott says. "And he got the girl! The intellectual guy! Which never happens anymore."
Scott says he was particularly enamored of the pipe-smoking Gene Barry in the 1953 epic War Of The Worlds.
"He's the funniest one," he says. "That movie is so beautifully bad. But there's something about their conviction, whether they're bad or not or whether the sets are falling down, the conviction is still there, no matter what they're saying, which is usually gobbledygook."
It was that attitude that Scott remembered when participating in Top Of The Food Chain's random lunacy.
"No matter what, you always play it straight. You're always playing it like you mean it," he says.
"Especially in comedy."

---
Wednesday, April 22, 1998
The next great Scott
By LOUIS B. HOBSON -- Calgary Sun
It takes some gentle prodding to get Campbell Scott to concede he's a prisoner of his genes.
Scott, 35, is the son of Oscar-winning actor George C. Scott and the late Colleen Dewhurst, the gravel-voiced actress who was born in Montreal.
"I've always considered myself an honorary Canadian," says Scott in a telephone interview from his home in New York.
"My mom had a summer home on Prince Edward Island, where my brother (Alexander) and I would spend our vacations from the time we were seven until we were 14.
"We lived just outside of New York until my father left us when I was 12," he says.
It was the second time Scott left Dewhurst for one of his movie co-stars. The couple never reconciled and Dewhurst raised her sons while Scott started a new family with Trish Van Devere, his co-star in Day of the Dolphin and The Savage is Loose.
Before their divorce, Dewhurst and Scott starred in a series of Broadway plays.
"Acting was just something our parents did," says Scott.
"It was no big deal and it wasn't disruptive. They'd disappear at night and be back the next morning. We'd didn't really miss them."
When Campbell and Alexander got older, they'd accompany their parents to New York -- especially for matinee performances.
"My parents were usually doing a Shakespeare or another classic, so we weren't interested in the plays. We'd sit backstage and play cards with the other actors or the crew."
Campbell says his artistic development was repressed.
"My brother and I weren't the kind of kids who put on skits to entertain our parents or their friends. We read a lot and discussed a lot of literature with them. Neither my brother or I ever talked about being actors, but through osmosis we got a feeling for the profession."
Scott planned to be a history teacher and only started acting in plays when he was at university.
He had a cameo in the 1988 Jodie Foster movie Five Corners, but his first starring role was in the 1990 AIDS drama Longtime Companion. His subsequent films include The Sheltering Sky, Dead Again, Dying Young, Singles, Mrs. Parker and the Vicious Circle and The Spanish Prisoner, which opens Friday.
In The Spanish Prisoner, Scott plays a young inventor who gets embroiled in corporate espionage.
Scott's character unwittingly becomes a pawn in a high-stakes game that has no rules.
His co-stars include Ben Gazzara and Steve Martin.
"It wasn't a funny role, so Steve was a totally serious guy committed to doing it straight on and off camera," says Scott.
Two years ago, Scott co-directed his friend Stanley Tucci's movie Big Night.
He's searching for a new film to direct.
"My dream project is a TV mini-series of Hamlet. I've played Hamlet twice onstage and I think it would make a powerful mini-series."

---

http://www.canoe.ca/JamMoviesArtistsT/tucci_stanley.html
September 7, 1996

---
Jam Movie Archive: Stanley Tucci

By BRUCE KIRKLAND
Toronto Sun

Big Night, a delicious film about the struggle of a classy Italian restaurant on the Jersey shore in the '50s, is one of those odd little movies that people love yet rarely go to see.

The trick is to get them in the theatre in the first place. Which is why the two actor-directors who made it -- Campbell Scott and Stanley Tucci -- are so keen about Big Night making its big splash at Toronto's International Film Festival.

"I've never been here before but everything I've heard is that it is a celebration of cinema," says Tucci, "and that is what is necessary for this film. You have to do it with a small film. Thank God these things (film festivals) exist. What would you do otherwise? How could you get your film out there?"

Big Night made its debut last night as a special presentation. It opens commercially this fall, co-directed by Tucci (famous as the killer on TV's Murder One) and Scott (son of George C. Scott and Colleen Dewhurst and best known for his performance in Mrs. Parker And The Vicious Circle).

They've known each other for two decades, since attending high school together in Westchester Co., near New York City. They worked together almost effortlessly, Scott assuming the role of sounding board to Tucci, who would make final decisions but only when necessary. Tucci co-wrote the script with cousin Joseph Tropiano.

The project is the culmination of the disillusionment both Tucci and Scott -- who are now in their mid-30s -- have felt since becoming professional actors. They're tired and bored and frustrated with crass commercialism. The funny, yet often poignant and emotional Big Night delves into this art-versus-money metaphor through food.

Big Night sits comfortably with their approach to work. But it took Tucci years of dedication to get it filmed and produced. I ask them both simply: "Why bother?"

"Because you can't not do it, unless you move to Europe, which you've considered," Scott says, turning to Tucci. In America, personal films are not valued enough, Scott says.

"It's something I've been obsessed with ever since I got into this business," Tucci says of the issues Big Night raises. "I came from a family where the arts are so important. So I couldn't do anything else.

"Yet the role of the artist in contemporary American society is a very complex one. America has always had a very ambiguous relationship with the arts. I think America really despises the artist and always has. We're a country of Puritans.

"So, 'why do I do what I do?' is a question I ask myself all the time." It's a question Tucci's character -- he plays the younger brother trying to keep the restaurant going while his older brother, a genius chef, is concerned primarily with the quality and pure joy of good food -- struggles with too. That way, the movie is absolutely personal.

"So the film had to be a labor of love," says Tucci. "Nobody could make any money because that's what the movie was about. If we had a lot of money, if people made a lot of money out of it, then we couldn't make the movie."

Return to


News & Interviews