Movie Collector's World (contributed by Grace)
What Price Non-Conformity?
Campbell Scott grew up in New York's Westchester County, where he has, also, long resided as an adult. He appeared in school plays, and attended college at Lawrence University in Appleton, Wisconsin. Appleton had two formerly famous residents. Senator Joseph McCarthy and Harry Houdini. It was often said that Houdini's first great "escape" was from Appleton! Scott moved to New York in 1983, to try a career in the theatre. He appeared with his mother on Broadway in Long Day's Journey into Night (1988) and Ah! Wilderness. He also appeared there in Hay Fever and The Real Thing. His off-Broadway credits included parts in Measure for Measure, A Man For All Seasons, The Last Outpost, and Paradise for the Worried. By the late 1980's, he also entered television. He played Joe Kennedy, Jr. in the TV mini-series "The Kennedys of Massachusetts," and appeared in episodes of "Family Ties" and "L.A. Law."
A becoming young man, six feet tall, dark, and handsome -- if not conventionally handsome -- Scott had a rich, pleasing voice, a quiet manner, and a restrained, as well as natural, delivery. Although he once said that youthful shyness seemed to preclude the world of theatre for him, he found actors to be open and expressive, and the theatre, itself, to be a personally fulfilling medium. He appeared in The School for Wives at the La Jolla Playhouse; in the title role in Hamlet in San Diego, in 1990; and took the title role in Shakespeare's Pericles, to good reviews, on Broadway, in 1991.
Campbell Scott's first role in films came in 1987 in the little-seen The Ghost of Fletcher Ridge. Photographed in color and available on video, the film was an outdoors drama about two friends who discover backwoods moonshiners while on a hunting trip; when one of the men is killed, the other flees in an attempt at survival. Bernie White, Virginia Langtry and Len Lesser also appeared in the film, which was directed by Michael Borden.
Scott's breakthrough film was Long Time Companion (1990), one of the best films of the early 1990s. The film had a strong "ensemble" cast in its study of ordinary gay professionals who experience frustration and heartache under the first onslaught of AIDS in the 1980s. Produced for PBS TV's "American Playhouse," the film was notable for its empathy, low-key, and sincerity. Scott gave the film's best performance as "Willie," who loses his friend, played by Dermot Mulroney, to the plague. Although he received low billing, the filmmakers realized his considerable ease and dexterity, panning to him whenever possible. Earnest, compassionate, but self-interested, his character came alive consistently because of Scott, most memorably in a hospital restroom scene where he fears and avoids contamination.
Scott won the film because of his sincerity and honesty, punctuated at times by a wide and beaming grin. He thus stood out in a capable cast in the Craig Lucas screenplay, directed by Norman Rene, which included Mark Lamos, Stephen Caffrey, Patrick Cassidy, Mary Louise Parker, and Bruce Davison. The latter of whom received a best supporting actor Oscar nomination. The cast focused upon the universality of human emotions, and the human plight of the situation, which spoke for itself, without need for apology."
Scott's other 1990 release was equally impressive. The Sheltering Sky is an atmospheric Bernardo Bertolucci drama, based upon Paul Bowles' legendary novel about three 1940's travelers in North Africa. Scott is a likable Long Island socialite named Tunner, who accompanied a married couple, played by John Malkovich and Debra Winger. When Malkovich sickens and dies, his wife wanders about in the desert, eventually becoming a concubine to a young native Arab chief. All the while, the seemingly glib and vapid Tunner searches for her, a faithful friend who finds her much-changed by picture's end. The film boasted three memorable performances, beautiful photography, and a moving music score, the latter written by Riuichi Sakamoto. The film opened well, and received numerous Golden Globe nominations, but perhaps because of "Operation Desert Storm" (1991), or a merely uneven press, did not acquire the popularity or awards which its stark human drama and poignancy deserves. Beginning with its contrast of 1940s "civilized" urban newsreels and jazz with primitive conditions in Africa, the film is a moving human canvas, narrated at its beginning and end by its author Paul Bowles, himself. A precursor of the much-honored The English Patient (1996), the film deserves a re-assessment as the quiet, uninsistent masterpiece it is.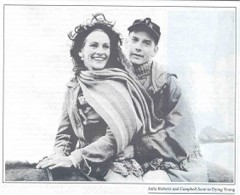 The film's solemn ending -- "Because we do not know the exact date of our death, life seems more open and endless than it is" -- was echoed in Scott's first starring vehicle, Dying Young (1991), co-starring Julia Roberts and released by 20th Century-Fox, Joel Schumacher directed the commercial and somewhat implausible romance between an isolated, patrician leukemia victim (played by Scott) in modern San Francisco, and his nurse-companion (Miss Roberts). The picture worked mainly because of its sincere performances and moving, life-affirming ending. David Selby, Ellen Burstyn, Vincent D'Onofrio, and Colleen Dewhurst co-starred. The film received a mixed box-office and critical reception. Scott's other 1991 film appearance came in a mere cameo as a menacing, mysterious, and unsavory stalker in Dead Again, an excellent film noir directed by Kenneth Branagh, and co-starring Branagh, Emma Thompson, Derek Jacobi, and Andy Garcia in a fetid, if compelling, script about murder and reincarnation, concerning a composer who supposedly murdered his wife. Deja vu, and a complicated reunion of the principals, made for a stylish and impactive, although glossy thriller.
With his performances in Longtime Companion, The Sheltering Sky and the near-commercial miss of Dying Young, Scott easily became the best actor, and not merely best new actor, of 1990-91, but his work was ironically and unfairly ignored in the Academy Awards and even in the Oscar nominations -- in favor of the visceral Joe Pesci in Good Fellas (1990) and the tart Jack Palance in a funny, but empty, comic-turn as the menacing villain "Curly" out West in City Slickers (1991).
Scott's versatility enabled him to do well in period, as well as modern, parts. His next project, Singles (1992), seemed to have popular potential. An above average film, it seemed beneath his usual standard, however, in seriousness. A romantic exploration of the Seattle "grunge" scene, the film explored rock bands. Written and directed by Cameron Crowe, it co-starred Bridget Fonda, Kyra Sedgwick, Matt Dillon, Jum True, and Bill Pullman.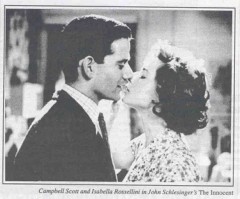 It seemed a long wait until the next starring vehicle for Scott. The Innocent (1993), directed by John Schlesinger, was a well-acted Cold War espionage melodrama, in which Scott played an operative assigned to intercept messages in Berlin, being sent to the Soviet Union. The film's release was delayed, and it opened to lukewarm reviews. The consensus was that it lacked suspense, in spite of a cast which included Isabella Rossellini, Anthony Hopkins, James Grant and Hart Bochner.
Scott next returned to a period piece, in which he again excelled. Although Mrs. Parker and the Vicious Circle (1994) did not achieve more than a coterie audience, it was an excellent attempt to recall the personal life and times of the writer Dorothy Parker and members of the famous New York City Hotel Algonquin literary "Round Table." Scott was outstanding as Robert Benchley, alcoholic family man, Parker fan and mentor, and neurotic, famous humorist. His alert interpretation was, once again, worthy of a best supporting actor Oscar award, and nomination, which he did not receive. The award, that year, went to Martin Landau for his performance as the aging Bela Lugosi in Ed Wood (1994). Jennifer Jason Leigh mumbled and stumbled, yet was earnest and ironic, as Dorothy Parker, and she won several critics' best actress awards for her performance. Scott, himself, justly won the Independent Spirit best actor award for his work in the film, which also, co-starred Matthew Broderick, Andrew McCarthy, Rebecca Miller, Wallace Shawn, Peter Gallagher and Gwyneth Paltrow. Alan Rudolph directed.
Scott had a notable success as co-director, with Stanley Tucci, of Big Night (1995), a low-budget feature, which won a specialized audience and critical acclaim for its portrayal of New Jersey brothers who operate a 1950's failing but elegant, restaurant. Scott also had a featured role in the film, which co-starred Tony Shaloub, Stanley Tucci, Minnie Driver, Ian Holm and Isabella Rossellini.
In 1996, Scott had another featured part in The Daytrippers. Jonn Inwood directed the in-law romantic comedy-of-errors, which co-starred Hope Davis, Anne Meara, Parker Posey, and Stanley Tucci. In 1997 Scott co-starred with Eric Stolz and Rebecca DeMornay in Hi-Life, a story about a struggling actor, played by Stolz, attempting to raise money to pay off his bookie, played by Charles Durning.
In the mid-1990's, Scott returned to his alma mater in Wisconsin, Lawrence University, briefly to teach acting classes and to direct a student play.
In 1998, Scott again has a featured part in a Stanley Tucci film. In The Imposters a shipboard, 1930s costume-farce, Scott has a small role as a scarred, Nazi-like villain, in a comedy in which Tucci and Oliver Platt play unemployed actors, affecting disguises in order to conceal themselves aboard a luxury cruise. The film received mixed reviews.
Campbell Scott again hit his stride in a leading part in a screenplay written and directed by David Mamet entitled The Spanish Prisoner (1998). One of the best 1990s original films noir, the film is a suspense classic in which Scott plays an earnest young technocrat, whose invention, "the process," promises millions in profits for his company, but ironically nothing but trouble for himself. Scott underplays, and is typically earnest, as a realistic and gentlemanly young man, who is deceived by his own goodness and by the Machiavellian machinations of his employer (Ben Gazarra) and his henchman (the comedian Steve Martin). The latter plays an unexpected and ironic performance as a decent-seeming patrician, who turns out to be conniving pond scum. Martin is outstanding in an offbeat atypical role, but Scott is, himself, no less so. The plot, in retrospect, seems slightly inept and implausible, but as a melodrama, the film is well-acted and consistently builds suspense. The picture was well-reviewed, but, again, did limited business.
Nearly a decade ago, Campbell Scott drew a line in the sand, indicating he did not hate interviewers, but interviews; declaiming fiercely that he would keep his personal life -- and inner life -- private and his own. While this may have given him a limited press, often by choice, it perhaps, also, has given him a tepid box-office and ironic lack of "major" awards and nominations. The further -- and greater -- irony is that few people have really revealed their personal lives, and this includes, in the Hollywood past and present, many -- even, perhaps, most -- of the most-publicized and supposedly "understood" stars. The real revelation of Campbell Scott has been the sincerity and seriousness of his talent; of his acting; and of the commercial sacrifices he has made in order to make offbeat, interesting, and largely adult and human films. This is, and should be, the real cause-celebre, the real thing, and the real result. It is certainly what, as an actor, has made him interesting, valid, and worthwhile

Return to The Campbell Scott Companion