Biography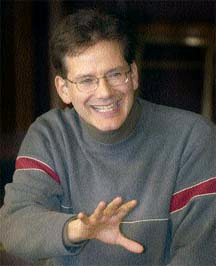 Date of Birth: 19 July 1961 in New York City
Education:
John Jay High School in Westchester, NY
Secondary education: Lawrence University in Wisconsin, 1983
Family History:
Parents: Actors Colleen Dewhurst and George Campbell Scott
Brother: Alexander
Half-siblings: Matthew, Devon, Victoria
Marital Status: Divorced; son, Malcolm, born in 1998,
dating actress Patricia Clarkson
Fan mail address (current as of 2005):
Mr. Campbell Scott
c/o Paradigm Talent
200 W. 57th St. Suite 900
New York, NY 10019-3211
Words, words, words: Quotable Scott
On working in Hollywood:
"I only made two studio movies, that was a long time ago and obviously I removed myself. I think some of that is geographical. I live in New York and I want to work there, it's as simple as that."
On directors' styles.
"I certainly admire people like Alan Rudolph (who I did Mrs. Parker and the Vicious Circle with) and Robert Altman. They love their actors and encourage them to do things. Those movies are more flexible and relaxed."
On the length of "Hamlet"
"It's under three hours. I like to say that to people: It's a fast moving 178 minutes."
What others say about Campbell
John Paisz (director of Top of the Food Chain)
"Campbell is a very literate, intelligent guy who knows his pop culture references. Crime Wave really appealed to him, and he really responded to the language in Top of the Food Chain. "
David Mamet (Spanish Prisoner director)
"And I've wanted to work with Campbell Scott since I saw Longtime Companion. I wanted to do this story in the Hitchcock-Donen, clean-cut, patrician, Leyendecker, Arrow-shirt kind of mold, and he was right for it."
Hope Davis and Stanley Tucci, about Campbell's antics on stage
Tucci: "He loves to turn his back on the audience and talk to the other actors."
Davis: "He usually turns his back and says, 'Help me.'"
---
"It's easier to play what you're not. I think the answer for me is that the reason I got into acting was not to explore myself. I was a reader, I didn't care about acting. I got into it in college, but I had no interest really in that, in getting up in front of anybody." ~ Campbell Scott